CHRIS PETERS "LIVE AND LET DIE" - MARK GARRO "PSYCHOPOMP & CIRCUMSTANCE"
Where: Copro Gallery
Bergamot Station Arts Complex
2525 Michigan Ave , Unit T5, Santa Monica , CA 90404
Ph: 310/829-2156
E-Mail: CoproGallery@Live.com
Web: www.CoproGallery.com
What: CHRIS PETERS "LIVE AND LET DIE" -MARK GARRO "PSYCHOPOMP & CIRCUMSTANCE"

Opening Reception: Saturday November 13 - 8:00 - 11:30 p.m.

Dates: Exhibit runs; November 13 - December 4, 2010
Contact: Gary Pressman, Gallery Director Copro Gallery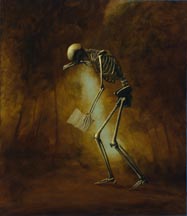 Chris Peters
Unexpected News

CHRIS PETERS "LIVE AND LET DIE"

Chris Peters' paintings find the beauty in that uneasy twilight place between life and death. The objects in the paintings draw from the classic symbolism of Vanitas still life and Catholic religious paintings; all refer to the cycle of life, death and the promise of resurrection.
In this latest series of paintings, Mr. Peters is exploring the concept of life long regret in silent dream like settings and his political beleifs "Live & Let Die".
Mr. Peters creates his art in his Los Angeles studio. He trained for three years at the Gage Academy of Art, completing their program that emphasizes academic painting techniques. He periodically teaches a class in painting with chiaroscuro lighting at the Gage Academy.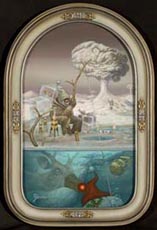 Finding Fatman
15" X 11" oil on panel

MARK GARRO "PSYCHOPOMP & CIRCUMSTANCE"
"PSYCHOPOMP & CIRCUMSTANCE" features classically beautiful figures as cosmological cogs working within the complex mechanisms of the Universe. The passage of time, evolution, spiritualism, and temptation are taken on in Garro's paintings with an emphasis on realistic trompe l'oeil techniques in terms of space, depth and illusion. He asks us not just to indulge his reality but also to consider our own.

Garro muses, "Seeing and feeling only the obvious is the burden of the insensitive. To observe and interpret the many layers of life, however dark or light they may be is the privilege of the perceptive. To offer the viewer more than one plane of thought and imagery through painting is what interests me".

After obtaining a BFA in Painting & Illustration on a full scholarship from Syracuse University, Mark Garro worked in a New York City gallery while building his portfolio. A successful Illustrator and cover artist for many published works, this is Garro's first solo show in a fine art gallery. A miniaturist who likes to work big, Garro struggles with this clash of sensibilities in order to be as prolific as possible.
###