MARK GARRO-CORPUS CALLOSUM
MATT DANGLER-SANCTIFIED
ROADSIDE ATTRACTIONS 2 group exhibiton

WHERE: Copro Gallery, 2525 Michigan Ave. T5, Santa Monica, CA 90404
Ph: 310/829-2156
E-Mail: CoproGallery@Live.com

WHAT: MARK GARRO-CORPUS CALLOSUM / MATT DANGLER-SANCTIFIED / ROADSIDE ATTRACTIONS group exhibiton

WHEN: Exhibit runs; October 10 – October 31, 2015
Opening Reception: Saturday October 10, 2015 - 8:00 – 11:30 p.m.

Contact: Gary Pressman, Gallery Director Copro Gallery
Copro Gallery presents for its October schedule two solo exhibitions, Mark Garro 'Corpus Callosum' & Matt Dangler 'Sanctify'. Both Garro and Danglers meticulously detailed, imaginative works constantly push the boundaries of time, space and gravity.

Connect the right and left side of your brain with " Corpus Callosum", Mark Garro's fifth solo show to open at Copro Gallery, Garro's new paintings are complicated swirls of impossibly magical and spellbinding scenarios – often resplendent with archetypical female figures, textures, details and metaphors. One could fall headlong into his immersive paintings and discover new objects, beings and vistas along every square inch. Garro's most breathtaking skill is is how he effortlessly morphs one texture to the next creating a wondrous world that exists solely in the mind of this unique artist.
The Stunning work can be considered a visual map of the human condition and a significant portrayal of the drive that we all must share in order to continue to exist together.
Mark Garro Bio and Resume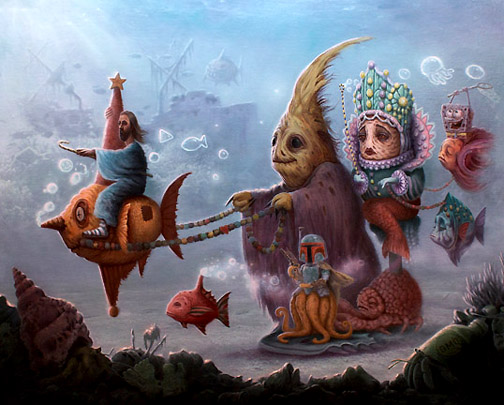 Matt Dangler - The Promised Land

Sanctify is being made or becoming holy and is an ancient concept. For Matt's new body of work he paints using Old Master techniques incorporating spiritual and religious themes that must be taken with a grain of salt. In his bizzare surreal world Jesus rides a fish clutching a candy cane leading his cult followers Spongebob, Mutant Boba Fett and the other 4 Apostles and fishes to the Promised Land.
BIO
Matt Dangler was born in 1984. He graduated in 2006 with a BFA in Illustration from Uarts, Philadelphia PA, while there he won the Kennedy Award: for Representation of the Human Figure. Won the Roger T. Hane Illustration Prize: for outstanding achievement in illustration and for demonstrating the inherent sincerity, intensity, and dedication to illustration which was Roger Hane. He illustrated Secret History of Mermaids (Children's Book from Templar Publishing 2009) along with Wayne Anderson, Gary Chalk and Virginia Lee, written by Professor Ari Berk. He has participated in over 3 dozen gallery exhibitions, and 4 solo exhibitions, and was included in Spectrum 14, 15, 17 and 18 annuals for "The Best In Contemporary Fantastic Art."
"The beauty of his surrealism is captivating. There's so much information and story behind Matt Dangler's characters. The environment, lighting, costume, composition, color, even down to the wrinkle on their faces, are all carefully and consciously planned. Each piece of his work is comparable to a book, where you could read the painting for hours yet there will be something new to discover. The mood of each piece inflicts a certain feeling, and it will definitely leave an impression once you leave." - Monzuki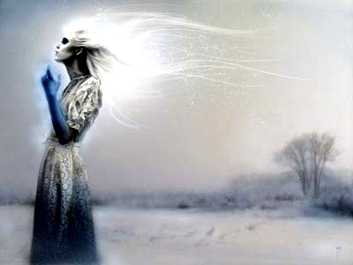 Menton3 - Skadi

In Gallery 1 for the second time 'Roadside Attractions 2' group exhibition curated by art collector Cris Velasco. A collection of oddities with paintings, sculptures and strange ephermera all slanted towards the Dark-Side.

Artists included
Clive Barker, Boris Vallejo, Chet Zar, Christopher Ulrich, Gerald Brom, David Stoupakis, Chris Mars, Gail Potocki, Brian Smith, Stephanie Inagaki, Laurie Lee Brom, Menton3, William Hand, Bruce Mitchell, Allen Williams, Matt Levin, Jed Leiknes, Naoto Hattori, Schifflet Bros, Virginie Ropars, Nikko Hurtado, Justin Slattum, Dave Palumbo, Lee Joyner, Dave Richardson, Tom Kuebler, Matthew Bone, Forest Rogers, Julie Bell, Richard Kirk, Matt Dangler, Winona Nelson, Damien Echols, Travis Lewis & more