Chet Zar 'The Fear' / Guillermo del Toro Tribute group exhibit
'Inspirations, Curiosities & Other Oddities'

WHERE: Copro Gallery - Bergamot Station Arts Complex

2525 Michigan Ave , Unit T5, Santa Monica , CA 90404

Ph: 310/829-2156
E-Mail: CoproGallery@Live.com
Web: www.CoproGallery.com
WHAT: Chet Zar 'The Fear' / Guillermo del Toro Tribute group exhibit
'Inspirations, Curiosities & Other Oddities'

WHEN: Exhibit runs; October 7 – October 28, 2017
Opening Reception: Saturday October 7 , 2017 - 8:00 – 11:30 p.m.

Contact: Gary Pressman, Gallery Director Copro Gallery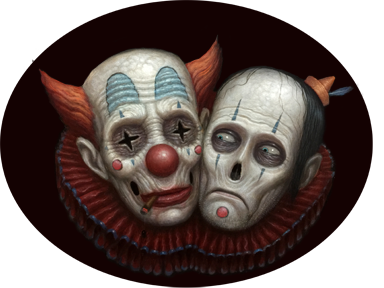 Chet Zar 'Siamese Clowns'



Chet Zar 'The Fear'
Copro Gallery presents a Chet Zar solo exhibition 'The Fear'. For Chet's 8th solo show with Copro Gallery (beginning in 2006 with Addicted to the Good News) he has created a series of small oval paintings with Zar-Style custom oval frames. Chet will be present at the opening reception and will be signing his book and have special 'The Fear' prints available only at the reception!

"I have been fascinated with fear as far back as I can remember and that is the reason I paint monsters to this day. Going back to my childhood for some inspiration lead me to ordering a bunch of collected volumes of old horror comics from the 50's and 60's that I love. Perusing through them, the idea for "The Fear" came to me. I wanted to do a series of paintings that pulled no punches. While much of my work is concerned with creating a kind of empathy for monsters, I wanted these paintings to express pure fear and give people the creeps. Fear is the emotion of the times, you see it everywhere. I can't remember another time in my life when people were so afraid, and it's not without reason. These are scary times! By painting Fear and looking Fear in the eye, we become less afraid."

footnote: I realized about half way through painting for this show that The Fear directly correlates with my Dy5topia universe in a way that I never expected. Ever wonder what was coming out of those smokestacks in my paintings? It's The Fear!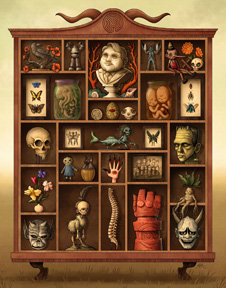 Micahel Ramstead ' "Guillermo Del Toro 2017 "



Guillermo del Toro Tribute group exhibit 'Inspirations, Curiosities & Other Oddities'

Artist & Curator, Chogrin, teams up with Copro Gallery to present GUILLERMO DEL TORO: INSPIRATIONS, CURIOSITIES, & OTHER ODDITIES, an art tribute to artist & filmmaker, Guillermo del Toro. This show will feature over 50 artists from around the world paying tribute to del Toro's main sources of inspiration such as Edgar Allan Poe, H.P. Lovecraft, Insects, Kaiju, the occult, his favorite films and his own films plus much more! Chogrin and many of the artists will be present at the opening night and many prints as well as the originals will be available.

This show will be the fourth in a series of art shows that Chogrin has been putting together in tribute to del Toro since 2013' " Into the Labyrinth & Mind of Guillermo del Toro. " With each one of these art shows Chogrin hopes to create & curate artworks that showcase the many layers of del Toro's genius work.



#