CHET ZAR 'CHAOS' / DOS DIABLOS 'CEMENTERIO CLUB'

WHERE: Copro Gallery - Bergamot Station Arts Complex
2525 Michigan Ave , Unit T5, Santa Monica , CA 90404

Ph: 310/829-2156
E-Mail: CoproGallery@Live.com
Web: www.CoproGallery.com
WHAT: CHET ZAR 'CHAOS' / DOS DIABLOS 'CEMENTERIO CLUB'
Chet Zar Web-Preview
Dos Diablos Web-Preview
CHAOS Prints & Posters

WHEN: Exhibit runs; October 9 – October 30, 2021
Closing Reception: Saturday October 30 , 2021 - 3:00 – 7:00 p.m.

Contact: Gary Pressman, Gallery Director - Copro Gallery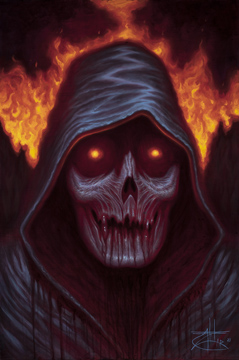 Chet Zar, Oil on Panel
Chet Zar 'CHAOS' solo exhibition

Copro Gallery presents a Chet Zar solo exhibition 'Chaos'. For Chet's 9th solo show with Copro Gallery (beginning in 2006 with Addicted to the Good News) he has created a series of paintings about the Monsters responsible for the CHAOS of 2020. Closing Halloween Party will be hosted by Chet Zar October 30, 3:00-7:00PM. Chet will be present at the closing reception and signing a special poster for the exhibit and have limited edition signed/numbered 'Chaos' prints and wooden gas masks available for sale.

ARTIST STATEMENT
The "Chaos" show is about 2020. These paintings are personifications of the chaos that defined the year. They are portraits of the dark supernatural forces- the "Agents of Chaos"- that I imagined and pretended were behind the pandemic, the insane politics, the forest fires and extreme weather events. If there was one word that I kept thinking throughout 2020, it was "chaos".
The color palette was inspired by the work of an artist friend of mine named Steve Cleff. He has visual synesthesia and works with a lot of bright colors. I primarily used reds and blues (and purples when both are mixed). It wasn't until after the paintings were all finished that I realized the political significance of painting with red (Republican) and blue (Democrat).

Chet Zar Bio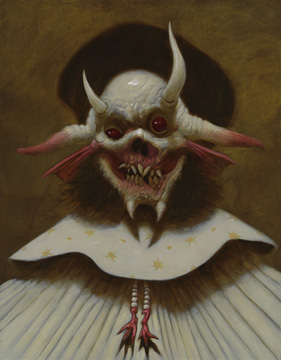 Dos Diablos, 'The Heretic' Oil on Panel
Dos Diablos 'El Cementerio' solo exhibition
'Cementerio Club' is a representation of the death and a twist on the tradition of "El día de Muertos". The origin of the title is inspired from the song by Luis Spinetta ('Cementerio Club' by Pescado Rabioso), where one of the dead sings the blues.
As a tribute to death I did this exhibition as if a dead person were painting portraits of the creatures that are in his path. There is the Catrina, the other death, the devil, the sad, the anxious and the happy. Dos will be present at the opening reception and signing a special poster for the exhibit opening night only!
BIO
- Jorge (Dos Diablos) was born in Guadalajara Mexico (1982). His art carreer started as an editorial illustrator, working for several Mexican newspapers and magazines. His illustrative collaborations range from posters, music album covers and book designs. Jorge's fine art career began as a result of restlessness, inner emotions and social conflicts. His critical vision which we see in each of his works evolves into the monster that we each carry with us every day. The work of 'Dos Diablos' transgresses and delights the viewer, leaving us no option but to forge ahead and contemplate our destiny. Jorge works and lives between Guadalajara and California.
#
Bergamot Arts Complex, 2525 Michigan Ave T5, Santa Monica, CA 90404 - 310-829-2156
All images and artwork Copyright 2015 CoproGallery
Please e-mail any problems with this site to CoproGallery@live.com