DOS DIABLOS 'VISITORS ARRIVE AT DUSK' - EGO 'RAINBOW IN THE DARK' - BRETT HERMAN 'EARLY MOURNING' - STEFANIE VEGA 'TALES MOST DISTURBING' - WES BENSCOTER 'EXHUMED REALITY'


WHERE: Copro Gallery - Bergamot Station Arts Complex
2525 Michigan Ave , Unit T5, Santa Monica , CA 90404
Ph: 310/829-2156
E-Mail: CoproGallery@Live.com
Web: www.CoproGallery.com
WHAT: DOS DIABLOS 'VISITORS ARRIVE AT DUSK' - EGO 'RAINBOW IN THE DARK' - BRETT HERMAN 'EARLY MOURNING' - STEFANIE VEGA 'TALES MOST DISTURBING' - WES BENSCOTER 'EXHUMED REALITY'
Web-Previews Available! Click Below
Dos Diablos - EGO- Brett Herman - Wes Benscoter - Stefanie Vega

WHEN: Exhibit runs; October 7 – October 28, 2023
Opening Reception: Saturday October 7 , 2023 - 6:00 – 10:00 p.m.

Contact: Gary Pressman, Gallery Director - Copro Gallery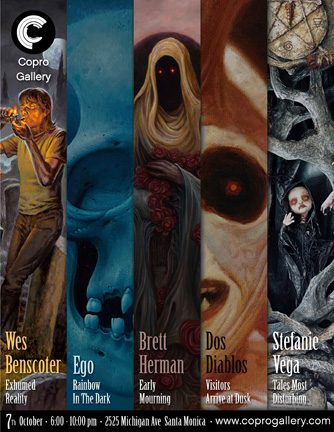 OCTOBER 2023 5 Artist exhibition -
with artists Dos Diablos, Brett Herman, EGO, Wes Bensoter and Stefanie Vega have created new paintings to celebrate the Season. This exhibit in October continues on until Halloween and all the celebrations that come with it, and then is over way too quickly! Dos Diablos, Brett Herman and Stefanie Vega will be present at the opening Saturday, Oct 7, 6:00-10:00PM.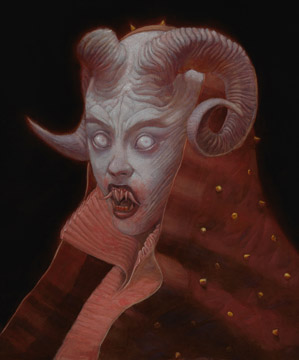 DOS DIABLOS 'VISITORS ARRIVE AT DUSK'

BIO - Jorge (Dos Diablos) was born in Guadalajara Mexico (1982). His art carreer started as an editorial illustrator, working for several Mexican newspapers and magazines. His illustrative collaborations range from posters, music album covers and book designs. Jorge's fine art career began as a result of restlessness, inner emotions and social conflicts. His critical vision which we see in each of his works evolves into the monster that we each carry with us every day. The work of 'Dos Diablos' transgresses and delights the viewer, leaving us no option but to forge ahead and contemplate our destiny. Jorge works and lives between Guadalajara and California.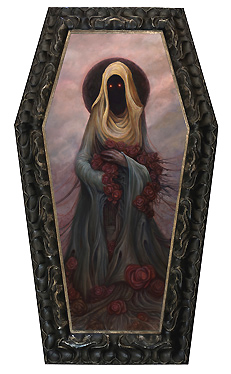 BRETT HERMAN 'EARLY MOURNING' - Copro Gallery presents Brett Herman's latest exhibition of 7 paintings 'Early Mourning' It's a glimpse into the emotions we endure during and after a devastating loss. This body of work walks us through the process of grief and the transitory nature of time. Packed with texture and gestural brush strokes helping convey the chaotic nature of our life's process and our longing for meaning. These works are a visceral guide to that moment when you want to describe someone you miss…but words will never be enough. The silence holds your tears as your mind delves into this delicate experience we call "life." Is there something more after this, will we meet again? Beliefs aside, when have you last expressed your love and intent to those dearest to you? Theres an innate darkness, yet a lightness to these works that deliver us into Brett's vision of our ephemerality. It's quite heavy to imagine the energy we possess is only for a moment. In this moment release your mind from your everyday battles and take a voyage through your strengths and weaknesses of mourning. Nevertheless we must always remember, Life is quite a blessing.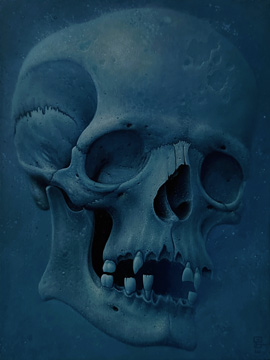 EGO - 'Rainbow In The Dark' is artist Ego's latest body of work. uses classical painting techniques to conjure intricately crafted portraits of macabre yet whimsical solitary outsiders. Ego feels a kind of kinship with these characters, as a socially-awkward extroverted introvert himself. The seemingly melancholy, yet somehow also charming figures he dreams up appear to dwell in the spaces somewhere between the natural and metaphysical worlds. In his work there is often a juxtaposition between the grim and endearing, the modern and classical, the real and the surreal.
BIO - A self-taught painter, Ego's distinctive style is informed by a lifelong fascination with popular culture (movies, music, comics, skateboarding, etc.), as well as a profound appreciation for the work of classical masters. From the masters he's adapted the nuanced rendering of light and shadow, as well as the study of anatomy which he bends to fit the uniquely distorted nature of the denizens of his imaginary world. Living in the Pacific Northwest also influences the tone of his work. For a large portion of the year it's dark and rainy. While many find this depressing, Ego feels the gloom contributes to a lush and hazy landscape that seeps into the colors and subjects of his paintings.
Through experimenting with different mediums, the technique which ultimately developed emulates the smoothness, depth and richness of oil paintings, using acrylic paint. Ego has shared these specialized techniques by teaching classes and workshops, as well as mentoring aspiring artists.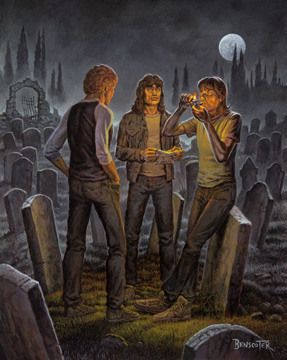 WES BENSCOTER 'EXHUMED REALITY' -

BIO: Wes established his reputation in the mid-1990s with his album cover art for Slayer and Relapse Records. His other rock art includes bands like AC/DC, Black Sabbath, Cattle Decapitation, and countless death and heavy metal bands.Besides album covers some of his other work includes book covers, DVD/Blu-ray covers, and magazine illustration including the Spectrum Award-winning cover art to Your Flesh magazine #42. Some noted clients include Warner Bros., Sony, Rhino Records, Ubi Soft, Ozzfest, Metal Blade Records, Nuclear Blast, Synapse Films, MPI, Shout Factory and book publishers Harper Collins and Wizards Of The Coast. He currently lives in Pennsylvania where he continues to work in the morbid arts!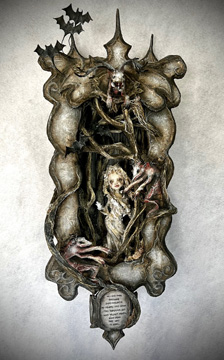 STEFANIE VEGA 'TALES MOST DISTURBING' - This fairytale series is hand painted and constructed to resemble an old treasured tome. Displayed on their own stand…each little diorama book tells a tale of not so happily ever after.
Artist Statement - I hope to give new voice to an age-old doll tradition that insists on singing its own song. From the tales that left profound impressions in my earliest childhood memories, I began working not only with unwanted doll parts, but with old books, skull & bones. They spoke to me of wanting to tell the bigger story. The dolls we played with as children were the totems of our dreams. Upon them we laid our hopes & fears…upon them we projected our greatest selves. I was serenaded by haunting lullabies from long ago. So, drawing on an enormous pool of archetypes & folklore & developing characters based on children's literature & faerie tales, a new hybrid was born. I began to write verse in order to share the tales that influenced the work.
Bergamot Arts Complex, Copro Gallery, 2525 Michigan Ave T5, Santa Monica, CA 90404 - 310-829-2156 CoproGallery@Live.com
All images and artwork Copyright 2015 CoproGallery
Please e-mail any problems with this site to CoproGallery@live.com