CHET ZAR 'ALL HALLOWS' EVE' - ROADSIDE ATTRACTIONS - STANISLAV
WHERE: Copro Gallery - Bergamot Station Arts Complex

2525 Michigan Ave , Unit T5, Santa Monica , CA 90404

Ph: 310/829-2156
E-Mail: CoproGallery@Live.com
Web: www.CoproGallery.com
WHAT: CHET ZAR 'ALL HALLOWS' EVE' - ROADSIDE ATTRACTIONS group exhibition of Oddities curated by Cris Velasco - Drawings by STANISLAV

CHET ZAR web-preview
ROADSIDE web-preview
STANISLAV web-preview

WHEN: Exhibit runs;October 18 – November 8, 2014
Opening Reception: Saturday October 18 , 2014 - 8:00 – 11:30 p.m.

Contact: Gary Pressman, Gallery Director Copro Gallery



Chet Zar's 'ALL HALLOWS' EVE'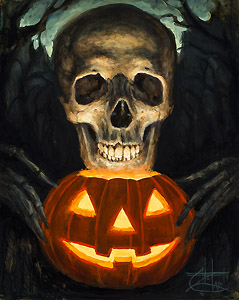 Copro Gallery presents Chet Zar's "ALL HALLOWS' EVE" solo art exhibition and Halloween Costume Party! Chet has created an amazing body of work with paintings that are all a tribute to Halloween along with a ONE NIGHT EVENT where Copro Gallery will be transformed into a ULTIMATE HALLOWEEN COSTUME PARTY! Movie Props, Pumpkins, Pickled Punks, Bales of Hay and Evil Scarecrows celebrate the Spirit of the Season!

About the exhibition Chet Zar says "To achieve a cohesive visual style, I took inspiration from horror illustration from the 60's. I used cool colors similar to the covers of many of the ghost story books I used to read as a kid. My overall concept was to merge these influences into my own style of dark surrealism and create something that is both nostalgic and modern at the same time. I have always dreamed of creating a series of paintings inspired by my love of Halloween and "All Hallows' Eve" is my tribute and realization of this dream for my favorite Holiday"

As always this Copro Gallery Event is Free to the public. Costumes and/or gothic attire is encouraged and full costumes will be rewarded with a free 'ALL HALLOWS" EVE' Poster and candy!

CHET ZAR BIO



ROADSIDE ATTRACTIONS - a group exhibtion of Oddities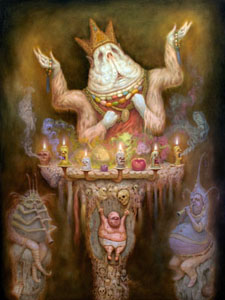 Matt Dangler Release Me" 30" x 40" Oil on Canvas

In gallery 2 a group exhibition curated by Cris Velasco. A collection of Oddities with paintings, sculptures and drawings all slanted towards the Dark Side and 'ALL HALLOWS' EVE!

Wayne Barlowe, Clive Barker, Allen Williams, Richard Kirk, Stephanie Inagaki, Dan Quintana, Matt Levin, Christopher Ulrich, Simon Lee, Chet Zar, Santiago Caruso, Menton3, Chris Mars, Laurie Lee Brom, Matt Buck, Matt Dangler, Jason Hite, Brian Smith, Dave Richardson, Billy Norrby, Jim Pavelec, Clifton Harvey, Justin Slattum, Scott Radke & more


Drawings by STANISLAV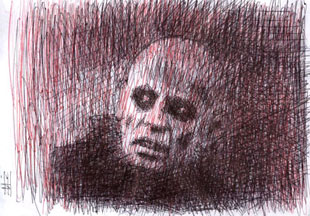 In the front of the gallery Copro presents the dark drawings of Stanislav. With a collection of his latest works all inspired by this special exhibition for 'ALL HALLOWS' EVE'!
Krawczyk Stanislav is an artist hailing from Kiev, Ukraine, a place currently being torn apart by civil war. It is a frightening, uncertain situation in his homeland, but Stanislav is no stranger to adversity. Born in 1984, he came into this world diagnosed with Cerebral Palsy and suffering from a degenerative eye condition which severely affects his vision. These potentially limiting factors,
however, have never been a hindrance to Stanislav as an artist. Instead he perseveres, using all of his pain, frustration, and fear in his craft. He transfers these things into emotional works of art that are distinct, unforgettable, and incredibly inspirational.

He tackles art in the most primeval form, scratching the darkness from his subconscious onto paper. Stanislav takes these tenebrous musings and manipulates them using modern technology with surprising results. This is raw, emotive, work filled with chaos and purpose, wherein you glimpse the artist's true self. It is a frightening window that reveals our gutteral instincts. Stanislav
is for the art world what Black Metal is for music, primal, powerful, and pure. His work has garnered the well deserved attention and respect from a host his artistic peers in the Dark Art community.