"PLAYBOY REDUX ll" group art exhibition
Where: Copro Gallery
Bergamot Station Arts Complex
2525 Michigan Ave , Unit T5, Santa Monica , CA 90404
Ph: 310/829-2156
E-Mail: CoproGallery@Live.com
Web: www.CoproGallery.com
What: " PLAYBOY REDUX ll" group art exhibition
Contemporary artists interpret the iconic Playboy Bunny
Opening Reception: Saturday December 18 - 8:00 - 11:30 p.m.
Live music from the "Livingstons"

Dates: Exhibit runs; December 18, 2010 - January 8, 2011
Contact: Gary Pressman, Gallery Director Copro Gallery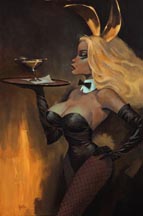 Glenn Barr
Golden Martini
28"x42"
Acrylic on Wood Panel

Playboy Enterprises in collaboration with The Warhol Museum (Pittsburgh) invited over 20 contemporary and street artists to reinterpret the iconic Playboy Bunny in celebration of the opening of the first Playboy Club in Chicago 50 years ago in 1960. Known at that time for her satin bunny suit, cotton tail and rabbit ears, the Playboy Bunny served cocktails and glamour in equal doses. Many luminaries once worked as Bunnies, including Deborah Harry, Gloria Steinem and Lauren Hutton. For Playboy Redux: Contemporary Artists Interpret the Iconic Playboy Bunny, artists were asked to create a new look for the Bunny, a veritable makeover to create the Bunny of the future. The selected artists presented a number of new takes on this iconic image, and works in different mediums including photography, painting, sculpture, drawing and video.
The "Playboy Redux" exhibition was originally shown at The Warhol Museum in March-June, 2010. Copro Gallery will now be exhibiting many of these works along with new ones in "Playboy Redux ll". This project is part of Playboy's year-long 50th Anniversary celebration of the Playboy Club and Playboy Bunny. The exhibit is curated by Aaron Baker, Ned West and Copro Gallery.
Participating Artist list so far
Gary Baseman, Frank Kozik, Luke Chueh, Glenn Barr, SHAG, Brian Viveros, Tara McPherson, Dan Quintana, Stanley Mouse, Mark Bodnar, Leslie Ditto, Bob Doucette, Lang Leav, Vincent Cacciotti, Nouar, Tin, Keith Weesner, Lisa Petrucci, Ausgang, Bob Masse, Isabel Samaras, Juan Muniz, William Wray, Marco Almera, Saya Woolfalk
R. Black, Jeremy Tinder, Daniel Elson, Scott Anderson, Jennnybird Alcantara, Brian Ewing, Jeremiah Ketner, Steve Seeley, Bonni Reid, Ken Keirns, Hiroki Otsuka, Andrew Schoultz, Ain Cocke, Shaunna Peterson Travis Lampe, Michelle Valigura, & many more to come

PLAYBOY, BUNNY and Rabbit Head Design are all marks of Playboy, ©2010 Playboy
###