THE 13TH ANNUAL BLAB! SHOW group exhibition / LEEGAN K. mini-solo

Contact: Gary Pressman, Gallery Director
Ph: 310/829-2156
E-Mail: CoproGallery@Live.com
Web: www.CoproGallery.com

WHAT: THE 13TH ANNUAL BLAB! SHOW group exhibition / LEEGAN K. mini-solo

WHEN: Exhibit runs; September 8 – September 29, 2018
Opening Reception: Saturday, September 8 , 2018, 8:00 – 11:30 p.m.

WHERE: 2525 Michigan Ave. T5, Santa Monica, CA 90404 / 310-829-2156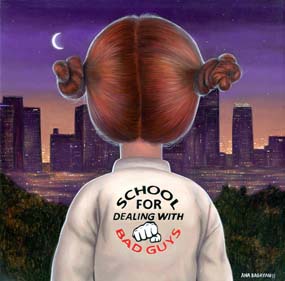 Ana Bagayan ,Into the City 12" x 12" Oil on wood panel
Copro Gallery presents THE 13th ANNUAL BLAB! SHOW group art exhibition. This will be the 13th BLAB exhibition with Copro Gallery curated by Monte Beauchamp.

ARTIST LIST: Amy Crehore, Banjo Glass, Chris Mars, Joe Sorren, Mark Garro, Adrian Cox, Ana Bagayan, Renee French, Scott Listfield, Brian Smith, Jon Ching, Edith Waddell, Jana Brike, Femke Heimstra, Glenn Barr, Peter Ferguson, Robert Steven Connett, Candice Tripp, Danny Galieote, Nicoletta Ceccoli, Gary Guttman, Ryan Heshka, Jason Limon, Jill McVarish, Scott Rohlfs, Lucia Heffernan, Deirdre Sullivan-Beeman, William Basso, Matthew Schommer, Michael Glascott, Nate Otto, Teresa James, Travis Lampe, Clare Rosean, Vikram, 1818, Yoko d'Holbachie, Erik Mark Sandberg, Naoto Hattori, Jon Swihart, Annie Owens, Marc Burkhardt Andy Kehoe, Vincent Cacciotti, Lola, Victor Castillo, Kelly O'Neill, Charlie Immer, Clare Toms, Travis Louie, Owen Smith, John Brophy, Dave Macdowell, Craig Larotonda, AND MORE!!!!!
Monte Beauchamp is an awarding-winning art director whose books have been featured in Vanity Fair, The New York Times, The Onion, The Believer, Flaunt, Bizarre, Graphis, Print, and ForeWard magazine, among others. His titles include Krampus: The Devil of Christmas (Last Gasp), The Life and Times of R. Crumb (St. Martin's Press), and Striking Images: Vintage Match Cover Art (Chronicle), New & Used BLAB! (Chronicle). He currently just finished a book for Simon & Schuster 'Masterful Marks Cartoonists Who Changed the World'
REVIEW OF THE FIRST BLAB! SHOW 2005 "In this climate of consumer pollution and corporate framework, it is no small feat when an act of creative freedom rears its pretty head. So when something comes along that is completely unrestrained and devoid of commercial influences it is time for applause. And BLAB! magazine is one of the platforms for unharnessed art that deserves a standing ovation. Started in 1986 and now in its 16th edition, BLAB! is the brainchild of founder, art director, and designer Monte Beauchamp. A magazine/art book in appearance, but without a strict editorial voice or advertising of any kind, it's more of an unconventional medium through which select artists have the freedom to create and express whatever they want across a chunk of pages. BLAB! started out heavy on comics but has expanded to include paintings and other works by countless outsider and fine artists. THE BLAB! SHOW, presented by Copro/Nason Gallery, features original artwork selections from the BLAB! anthologies, including pieces by Gary Baseman, Tim Biskup, Drew Friedman, David Sandlin, Owen Smith, Gary Taxali, Esther Pearl Watson, and more. It's the first group show for the magazine, and if the growth of this refreshing visual platform is any barometer, it won't be the last."
—Juxtapoz, 2005 #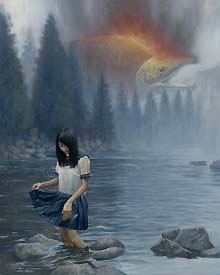 Leegan K., Burning Sockeye, 20"x16" oil


In his second mini-solo exhibit for Copro Gallery Leegan K. presents a series of surreal paintings with a mysterious underlying theme. Says Leegan about the work "I think what's more important than my message is what people feel when they see my art. I love to hear about their own interpretations and what kind of connection they draw between my art and their experiences of life".

Leegan began drawing and painting at a young age by himself. He grew up moving from one metropolitan city to another—Baltimore, Philadelphia, and New York City; and cultural diversity and experience of dynamic urban life became the major source of his artistic inspiration, along with jazz, hiphop, and graffiti. In 2011, Leegan began to focus on painting cityscapes—a visual manifestation of memories and emotions attached to certain places—and experimented with various styles of realism and surrealism. In 2013, he moved to San Francisco to attend Academy of Art University where he received his first formal art education. In 2014, Leegan moved to Los Angeles and joined Leftbank Art, a corporation that specializes in producing and printing artworks for clients such asCrate and Barrel, Pottery Barn, Z Gallery. He currently lives and works as a freelance artist and art instructor in Los Angeles.


Bergamot Arts Complex, 2525 Michigan Ave T5, Santa Monica, CA 90404 - 310-829-2156
All images and artwork Copyright 2015 CoproGallery
Please e-mail any problems with this site to CoproGallery@live.com