THE BLAB! SHOW / 17TH ANNUAL GROUP EXHIBITION


WHERE: Copro Gallery - Bergamot Station Arts Complex
2525 Michigan Ave , Unit T5, Santa Monica , CA 90404

Ph: 310/829-2156
E-Mail: CoproGallery@Live.com
Web: www.CoproGallery.com
WHAT: THE BLAB! SHOW / 17TH ANNUAL GROUP EXHIBITION
BLAB! Web-Preview

WHEN: Exhibit runs; September 10– October 1, 2022
Opening Reception: Saturday September 10 , 2022 - 5:00 – 10:00 p.m.

Contact: Gary Pressman, Gallery Director - Copro Gallery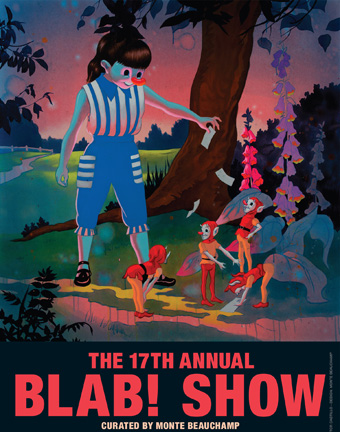 Blab!s Coming To Town!
Poster 19"x13"
THE BLAB! SHOW - 17TH ANNUAL
GROUP EXHIBITION
For the seventeenth year in a row, BLAB! magazine founder, editor, and curator Monte Beauchamp, and Copro Gallery presents THE BLAB! SHOW — an eclectic array of paintings, sculpture, and illustration by contemporary artists the world over.
PLUS! — BLAB SHOW POSTER SIGNING:
On opening night, September 10, painter Victor Castillo and designer Beauchamp will be signing THE BLAB SHOW's very first exhibition poster. "It's about time we've gotten around to doing one," mused Beauchamp. We decided to do a limited-edition of 30 that both Victor and I will be signing and numbering at the opening reception."
OVER 60 EXHIBITING ARTISTS: Alex Graham, Ana Bagayan, Anthony Ausgang, Bella Ormseth, Bennett Slater, Benz and Chang, Bill Mayer, Casey Weldon, Charlie Immer, Chet Zar, Chris Buzelli, Chris Guest, Chris Mars, Christian Clayton, Christina Ramos, Ciou, Corinne Halbert, Craig La Rotonda, Dave Cooper, Dave Lebow, David Lyle, Dewi Plass, Dustin Myers, Ed Binkley, Erika Sanada, Frank Forte, Frau Sakra, Glenn Barr, Gregory Hergert, J. Henry, Jana Brike, Jason Limon, Joe Vaux, John Brophy, John Cuneo, John Rego, Jonathan Queen, José Luis López Galván, Josh Keyes, Kim Saigh, Leegan Koo, Mab Graves, Marc Burckhardt, Mark Garro, Moira Hahn, Naoto Hattori, Nouar, Nova Czarnecki, Owen Smith, Paul Barnes, Rachael Bridge, Renee French, Richard Ahnert, Rob Sussman, Robert Steven Connett, Ryan Heshka, Scott Bakal, Scott Musgrove, Scott Rohlfs, Seamus Conley, Simona Candini, Sonya FU, Sonya Palencia, Syd Bee, Tim O'Brien, Peca, Travis Lampe, Travis Louie, Victor Castillo, Xue Wang,
Curator Monte Beauchamp: is an award-winning art director and graphic designer who has served as a juror for American Illustration, The Society of Illustrators, Communication Arts, and Lürzer's Archive. He is the founder and editor of the graphics-illustration-comics annuals BLAB! and BLAB WORLD. His books include A SIDECAR NAMED DESIRE: Great Writers and the Booze that Stirred Them (co-authored with Greg Clarke, HarperCollins-Dey Street), MASTERFUL MARKS: Cartoonists Who Changed the World (Simon & Schuster), and KRAMPUS: The Devil of Christmas (Last Gasp), among others. In 2012, Beauchamp was awarded the Society of Illustrators prestigious RICHARD GANGEL ART DIRECTORS AWARD (for outstanding contributions in promoting and advancing the art of illustration).
#
Bergamot Arts Complex, 2525 Michigan Ave T5, Santa Monica, CA 90404 - 310-829-2156
All images and artwork Copyright 2015 CoproGallery
Please e-mail any problems with this site to CoproGallery@live.com