Copro Gallery is pleased to announce the opening for "Der Wilden Mann: Thus Sprach Flotsam; Metamorphosis 3", the first major Los Angeles exhibition of work by Bolinas-based artist Mike Shine. Known for his epic performance pieces, interactive art objects and "art shack" installations, Mike Shine's work has been recognized in museum exhibitions at SFMOMA, Laguna Art Museum and The Museum of Craft and Folk Art. Incorporating techniques of folk craftsmanship and a graphic, representational painting style, Shine's work draws inspiration from 60s California skate and surf aesthetic, as well as the traveling American carnival, Nordic mythology, sideshow curiosities and philosophical literature from the German Romanticism and existential periods.
"Mike Shine has a way of turning the strange into the familiar. He mixes carnivals, Nordic mythology, and surf-and-skate culture — and by the time he's done with them, they seem like a natural fit." - Keith Bowers SF Weekly
The theme of "Der Wilden Mann" references "Thus Spoke Zarathustra", Frederich Neitzsche's philosophical tome on morality and pedagogy. Mike Shine explores and mutates the Neitzschean theme of constant transformation via Flotsam, the Faustian carny-trickster who is centrally depicted in Shine's installations. Putting his own twist on Zarathustra's teachings through millenniums of Faustian bargains, Flotsam deftly guides Mankind into its third metamorphosis: the modern-primitive or, the "Wild Man" (Der Wilden Mann). The world of "Der Wilden Mann" may be rustic and primitive but it also represents mankind in it most enlightened form. Like Neitzsche's Child, "Der Wilden Mann" is free from the shackles of commandments, prejudice, propaganda and religious agendas affording him an opportunity to begin anew. Through this narrative, Shine inquires as to what tricks Flotsam has up his sleeve and how mankind will choose to respond.
The work for "Der Wilden Mann" will include 75 mixed pieces, painted on wood and found materials, and an installation that will include an Old Norse style longhouse with sod roof, interactive carnival games, videos, and a novella that accompanies the show's theme of future primitive.

Mike Shine is a painter and writer living and working in Bolinas, California. His work has appeared at SFMOMA The Museum of Craft and Folk Art, the Laguna Beach Art Museum, Art Basel Miami, White Walls Gallery and 941 Geary in San Francisco. Shine's artwork has been featured in Juxtapoz Magazine, Hi-Fructose Magazine, SF Chronicle, Readymade, Art Ltd. and Spread Art/Culture Magazine.
ARTIST STATEMENT
CURRENT INTERVIEW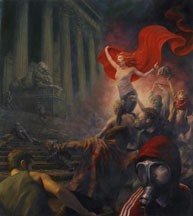 "Rise" - 34" x 30" oil on canvas

Billy Norrby "Of The Vanguard"
depicts a human landscape in violent disarray and upheaval.

This series of oil paintings responds to an era marred by growing disillusionment, suspicion and paranoia. By drawing upon the mannerism and language of the classic war painting, "Of The Vanguard" it explores the cyclical nature of conflict, connecting the struggles of modern day society to a larger and much older human narrative. Theatricality and overt glorification allude to the systematic manner in which narratives are constructed and merged with reality, thus serving to dilute and re-appropiate the true nature of a conflict. In paradox, fragments of hope and melancholy nostalgia linger in the stylistic treatment.

Billy is dedicating these this exhibition to his late uncle Frank Storeide, who was a large influence in his pursuit of art.

Originally a native of Sweden and after spending several years working for the video game industry Billy graduated from the "School of Visual Arts" in 2010. He now lives and works in Brooklyn, New York where he moved to pursue a painting career.

Beyond a life steeped in cinema and pop culture, his work is inspired by the golden age of illustration, old master painting and art movements such as romanticism, symbolism and the pre-raphaelites.

Hi-Fructose Blog