Chet Zar "EGO DEATH" / Nikko Hurtado "Renati" solo exhibitions
WHERE: Copro Gallery - Bergamot Station Arts Complex
2525 Michigan Ave , Unit T5, Santa Monica , CA 90404

Ph: 310/829-2156
E-Mail: CoproGallery@Live.com
Web: www.CoproGallery.com
WHAT: Chet Zar "EGO DEATH" solo exhibit - WEB PREVIEW
Nikko Hurtado "Renati" solo exhibit - WEB PREVIEW
FOOD FROM DON CHOW TACO TRUCK

WHEN: October 26, 7:00 - 11:30 PM, Chet Zar "EGO DEATH" EVENT

Contact: Gary Pressman, Copro Gallery Director

| | | |
| --- | --- | --- |
| | | |
| Ego Mors Sum | Ego Death II (Black Magick Suicide) | Hungry Ghost of Blood Castle |

The paintings for Ego Death are meant to represent various aspects of the Ego and serve as metaphors for the human struggle to get beyond them.

Oct 26th the Big Ego Death EVENT happens at Copro Gallery. The "Ego Death" paintings will be on exhibit along wih a funeral procession for Black Magick (playing the role of The Ego) funeral music from a living dead organ player and tons of other surprises including coffins, hearses and Chet Zar characters come to life! The Copro show will be the BIG Funeral / Wake/ Halloween party mentioned in the Chet Zar Kickstarter pitch video and will be a ONE NIGHT EXHIBITION & THE END OF EGO DEATH.
As always the Copro Gallery show is Free to the public. Black clothing and/or gothic funeral attire is encouraged and rewarded with free Ego Death Posters. Since we will have an open coffin funeral for Black Magick we also encourage people to bring small items to put inside the coffin as offerings to the EGO as we send it on it's way into the Great Beyond!

CHET ZAR BIO


Nikko Hurtado "Renati" solo exhibitions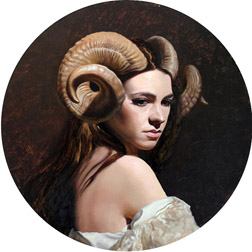 Copro Gallery presents artist Nikko Hurtados' first solo art exhibition "Renati". Nikko's brand new body of work focuses on his talents as a fine artist with works on wood and paper. Nikko has become one of the forerunners in color portraiture tattoo work and has elevated himself into the upper echelons of the tattoo industry to earn himself a number of awards and admirers along the way. This exhibition represents a rebirth and new direction for his artistic skills as a painter and fine artist hence the title Renati which is latin for Reborn.

Born in 1981 in San Fernando Valley, California where he was raised by both his parents Nikko's uncles and grandfather all sported their own homemade tattoos. Displaying his artistic talent from an early age, he would draw pictures of cartoon characters and give them to female classmates in an effort to get their attention. From junior high forward he attended art classes in school where he learned to draw professionally and then went on to attend 'The Art Center of Pasadena'.

Fortunately for the tattoo industry, a friend of Nikkos' opened up his own studio and invited Nikko to come and learn how to tattoo, giving him his start in the tattoo business. After a long stint working out of Ignition Tattoo in Apple Valley, Nikko began making plans to open his own studio 'Black Anchor Collective' in Hesperia, California which opened its doors in early 2010.
Nikko 's tattoo work is instantly recognizable as his own due to his ability to blend his personal style into every stunningly realistic portrait. Working with portraits of the stars of film and television as well as personal portraits of family and loved ones, he is able to capture that magic that seems to make his tattoos come alive. Using an incredible color palette he can create a perfectly realistic flesh tone for his tattoos and can change the texture of his designs at will. With his talents of creating beautiful art on peoples skin Nikko is using those same artistic skills to create paintings and drawings that will hang on collectors walls. "Renati" will be his first major foray into this field of art so DON'T MISS IT!
###