David Molesky - Timothy Robert Smith - Vincent Cacciotti
WHERE: Copro Gallery - Bergamot Station Arts Complex
2525 Michigan Ave , Unit T5, Santa Monica , CA 90404

Ph: 310/829-2156
E-Mail: CoproGallery@Live.com
Web: www.CoproGallery.com
WHAT: David Molesky - Timothy Robert Smith - Vincent Cacciotti
David Molesky Web-Preview
Timothy Robert Smith Web-Preview
Vincent Cacciotti Web-Preview
WHEN: Exhibit runs; April 19 – May 10, 2014
Opening Reception: Saturday April 19, 2014 - 8:00 – 11:30 p.m.

Contact: Gary Pressman, Gallery Director Copro Gallery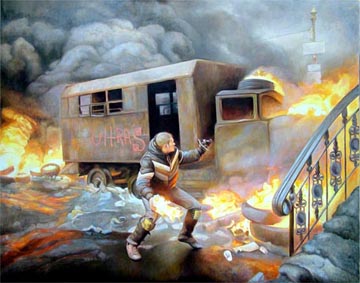 Copro Gallery presents 3 seperate solo exhibitions by 3 different artists.

David Molesky was born in Washington D.C. He moved to the west coast in 1995 to study fine art and molecular biology at UC Berkeley.The science/art relationship combined leads to very interesting subject matter in his paintings. Mythological symbolism, animals, the sea, and ancient cultures pervade his work and are reflective of his travels to exotic places.Traces of Rembrandt, as well as the Venetian Renaissance style can be seen in his classical approach to a canvas with the use of light and brushwork. Living in Norway for several years as an apprentice to Odd Nerdrum, Molesky has managed to absorb his encounter with the Norwegian modern master and generate an artistic style that is quintessentially his own, This exhibition includes a continuation of a series of figures finding tranquility in nature juxtaposed with new paintings of political upheaval. In recent months media coverage of the Kiev protests inspired David to combine his interests in painting figures and fire.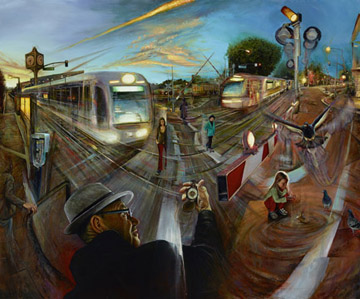 Timothy Robert Smith is a Los Angeles painter whose "Kaleidoscopic Realism" jumbles and disorients. His works have an air of visionary fiction that offers a dazzing antidote to what Smith calls the "tunnel vision" of civilization's dominant linearity. (excerpt from Huffington Post article)
Some of the themes of Timothy Robert Smith's paintings include:
Modern physics and the nature of reality: this includes time and space, hidden/alternate dimensions, and probable selves. Showing a cinematic picture of the universe based on these ideas.
Art as Science: à la Leonardo Da Vinci
Radical/intuitive/mystical/primitive science and the fine line that exists between what is/isn't considered "scientific": for example Nikola Tesla and his "psychic powers." Also, how our accepted ideas of physical reality are always in flux (see Steven Hawking's The Grand Design).
Consciousness: belief systems and how they alter the nature of reality, The role of "the self" in our technological-based consumer society ("Technocracy"). The struggle to survive, the fine line between sanity and insanity... Who are we really?
The theory that everyone is really their own opposite: we are beautiful Contradictions, acting out roles in a theatre of the absurd.
Finding peace within a civilization: empowerment through enlightenment.
Enlightenment: that undefinable sense of knowing. Operating like a Zen koan, throwing around paradoxical visual ideas designed to force a temporary glitch in our auto-pilot systems of consciousness.


Vincent Cacciotti's work blends surrealism and fantasy depicting the travels of the human mind, body and soul. Vincent began painting as a child. He studied at The Art Students League in New York City and The California Art Institute in Westlake, CA. 'however is mostly self taught. His latest work for this show deals with girls behind masks and shows his talent for painting figurative realism/surrealism.