JASON LIMON - LUCIA HEFFERNAN - JODY FALLON

WHERE: Copro Gallery - Bergamot Station Arts Complex
2525 Michigan Ave , Unit T5, Santa Monica , CA 90404

Ph: 310/829-2156
E-Mail: CoproGallery@Live.com
Web: www.CoproGallery.com
WHAT: JASON LIMON - LUCIA HEFFERNAN - JODY FALLON
Jason Limon Web-Preview
Lucia Heffernan Web-Preview
Jody Fallon Web-Preview

WHEN: Exhibit runs; August 10 – August 31, 2019
Opening Reception: Saturday August 10 , 2019 - 6:00 – 10:00 p.m.

Contact: Gary Pressman, Gallery Director Copro Gallery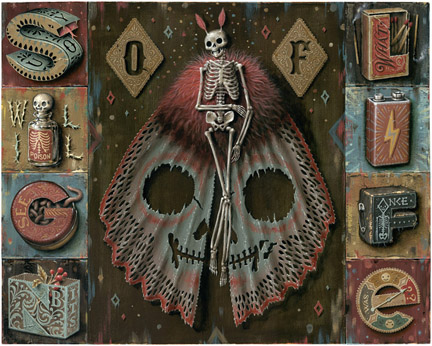 Jason Limon 'Signs of Life'

JASON LIMON
Copro Gallery presents, for his first solo exhibition at our gallery, Jason Limon, 'Signs of Life'. Says Jason about this show "Most of what I am saying in these paintings is personal and revolves around fear, confusion and the fragility of life – about not having answers and trying to move beyond ominous feelings. As dark as it all may sound, it has shed a positive light on how I create. In most of my new work I have also reintroduced the application of typography as well as the usage of multiple panel paintings; elements that I enjoyed early on in my career but had faded with time. In the past I have explored a range of subjects, from ideas based on nature to otherworldly beings. As I progress there is one field where I started and tend to gravitate toward the most: HISTORY. Within the elements that surround us every day are bits of someone else - a record of thoughts made up of color, typography and symbols marked onto paper and metal to represent products throughout time. As an artist I've grown to value these pieces of history; to survey and connect them to craft my own thoughts and feelings.

BIO Jason Limon is a painter and sculptor that was born in San Antonio, Texas. In early 2007 he moved from a long career in graphic design to begin work as a visual artist exhibiting in galleries across the United States and parts of Europe. He has had solo exhibitions in New York, Albuquerque, and Chicago and has participated in a large variety of group exhibitions. His art has been presented in an array of publications and has received awards and accolades from Communication Arts, American Illustration and The Society of Illustrators of Los Angeles. In 2016, a toy based on one of his paintings won Toy of the Year award from the Designer Toy Awards in New York. He continues to reside in San Antonio, Texas.

ARTIST STATEMENT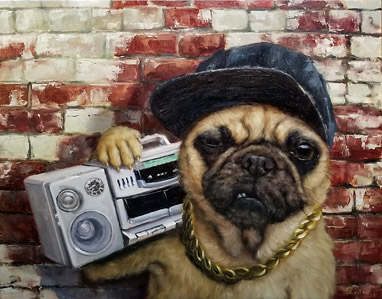 Lucia Heffernan 'Snoop Doggy Dog'

LUCIA HEFFERNAN
Lucia has created a body of work for her Copro Gallery exhibit further exploring a lifelong fascination with animals. 'Though my paintings, I seek to give animals a voice and a personality, while making light of our uniquely human existence. By imagining what animals might do if put in human situations, I stage tableaus that shine a spotlight on both their innocence and raw instinct. This collision between animal and human sensibilities creates a whimsical, theatrical, and often humorous world that viewers can relate to on an emotional level.'
BIO A graphic designer by trade and an oil painter by design, I am continually experimenting with different styles of contemporary realism that balance my artistic sensibilities, technique, and unique sense of humor. As I evolve, what remains constant is my respect for the animals that inspire me, and my desire to bring a smile to the face of every viewer.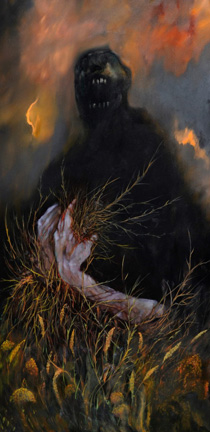 Jody Fallon 'Lamentation'

JODY FALLON
Copro Gallery presents a small selection of work by painter Jody Fallon. Jody is a self-taught artist working in most mediums but specializing in oils. Most of his work is created from imagination and he never works from photographs or digital. His dark subject matter often conveys feelings of otherworldly desolation and desperation sometimes even crossing over into Science Fiction.
BIO . Having had no formal art training, Fallon developed his unique passionate style through countless hours studying the original works of Paul Lehr, Frank Frazetta, Stephen Bagnell and Ron Wing. A native of rural Pennsylvania, he feels most comfortable painting landscapes and dark figurative works. Jody's work has been exhibited extensively in galleries throughout Pennsylvania and group exhibits in NYC. He has also exhibited at IlluXCon.
#
Bergamot Arts Complex, 2525 Michigan Ave T5, Santa Monica, CA 90404 - 310-829-2156
All images and artwork Copyright 2015 CoproGallery
Please e-mail any problems with this site to CoproGallery@live.com